티브이로직의 색보정 소프트웨어를 무료로 제공해 드립니다.
구입한 티브이로직 제품을 구입 후 3개월이내에 등록 하시면 보증 기간을 연장해 드립니다.
축적된 디스플레이 색 보정 기술 및 품질관리 경험을 바탕으로 CRI 측색기 제품군을 소개합니다.
LUM-318G : 12G-SDI 및 HDMI 2.0을 지원하는 31인치 True 4K 모니터
The LUM-318G is a 31.1" native 4K resolution(4096×2160)monitor with maximum luminance of 850nit, contrast ratio of 1450:1, wide color gamut and wide viewing angle.Equipped with 4 BNCs (2×12G-SDI + 2×3G-SDI) and HDMI2.0 interface, it supports various video formats upto 4K/60p through single-link 12G-SDI, Quad 3G-SDI and HDMI 2.0. In addition to various professional features such as Waveform monitor and Vectorscope, the LUM-318G provides HDR emulation function with HDR EOTFs of PQ, HLG and SLog3.More camera-specific HDR logs and gamuts will be supported by firmware update.
Coming Soon!!
Choice:
Audio Level Meter Display
SDI나 HDMI 등의 단자를 통해 입력되는 영상신호와 함께 내재된(embedded) 음향신호의 레벨을 표시해 주는 기능입니다.
Blue Only / Mono
Red와 Green 채널은 사용하지 않고 오로지 Blue 채널만으로 화면을 표시해 주는 기능입니다. 이 기능은 주로 방송용 모니터나 일부 고급형 TV에서만 제공하며 SMPTE Color Bar를 이용하여 화면의 색감(색조와 채도)을 조절하는데 사용됩니다. 예를 들어, Blue 채널만 표시되도록 한 후 원래의 Magenta와 Cyan이 동일한 밝기의 Blue가 되도록, 그리고 원래의 Gray와 Blue가 동일한 밝기의 Blue가 되도록 Color(혹은 Saturation)와 Tint(혹은 Hue)를 조절해 주면 됩니다.
H/V Delay
영상신호에 실려 오는 Ancillary(ANC) data 부분을 관측하기 위한 기능으로 캡션신호, 음향신호, 소스 ID 등과 같은 신호를 화면이나 스피커를 통해 확인하면서 동시에 Blanking 신호를 관측할 수 있는 기능입니다.
Marker
4:3, 16:9, 1.85:1, 2.35:1 등 다양한 종류의 화면비율을 화면에 표시해 주는 기능으로 다양한 타입 Safety Area, Marker Mat, Custom)의 Marker를 디스플레이 할 수 있어 다양한 촬영 조건에서 유용하게 사용될 수 있습니다.
Time Code Display
화면에 Timecode 정보를 표시해줍니다.
User Aspect
사용자가 원하는 가로 / 세로 비율을 설정할 수 있는 기능입니다.
Various Scan Modes
원본 영상을 있는 그대로 화면에 표시해 줄 것인지 아니면 약간 줌인(zoom-in)하여 Overscan시키거나 줌아웃(zoom-out)하여 underscan시킬 것인지 등의 여부를 선택하는 기능입니다.
Waveform/Vector Scope
Waveform : 입력되는 영상의 밝기 신호 성분(Y')과 색차 신호 성분(Cb/Cr)을 각각의 파형으로 출력합니다.
Vector Scope : 입력되는 영상의 색 신호를 색차 신호 성분(Cb/Cr)으로 위상 검파하여 X-Y축상에 표시합니다.
Display Spec.
| | |
| --- | --- |
| Size | 31.1" |
| Resolution | 4096 X 2160 (17:9) |
| Pixe Pitch | 0.1704mm |
| Color Depth | 1.07B |
| Viewing Angle | 178°(H) / 178°(V) |
| Luminance | 850cd/m2 |
| Contrast Ratio | 1,450:1 |
| Display Area | 698(H) x 368(V) mm |
Input
| | |
| --- | --- |
| 4 X BNC | 12G-SDI A/B Channel Input, 3G-SDI C/D Channel Input |
| 1 X HDMI | HDMI Input |
Output
| | |
| --- | --- |
| 4 X BNC | HD SDI A/B/C/D Channel Output |
Audio
| | |
| --- | --- |
| Audio Out | Analog Stereo (Phone Jack), Internal Speaker(Mono) |
FPGA Functions
, Blue Only, H/V Delay, Marker, Mono, User Aspect, Various Scan Modes, Waveform/Vector, SingleMode
Closed Caption
Calibration
TVLogic Color Calibration Utility, 3D LUT & Adjustable Gamma, 3rd Party 3D LUT Import
Other Functions
REMOTE
TVLogic's specification
USB
Firmware update by USB cable
Firmware update by USB memory stick
Ethernet
Conversion
SDI-to-SDI,
Options
LUM-318G : 12G-SDI 및 HDMI 2.0을 지원하는 31인치 True 4K 모니터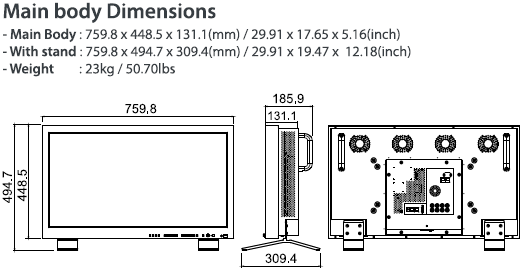 Contact Us
Address
[153-797] 서울특별시 금천구 가산디지털1로 84 (가산동, 에이스하이엔드 8차 본사/연구소 : 12층, 공장 9층)